Smart devices help make our daily lives easier by allowing us to control and monitor our activities with the help of a smartphone or tablet. For the bedroom this has many advantages because we can sleep easier and manage our tasks more efficiently. The technology is currently growing but the possibilities for the future are endless. It's only a matter of time before every product you purchase can be controlled via iPhone or Android.
Mood lighting is used as a way to create specific moods and emotions, which is perfect for a bedroom design. When getting home, people want their bedrooms to be a calming and relaxing space. With dimming and color options, the Smfx Led Smart Bulb can be controlled through your smartphone to shine in 16 million different colors. Set it to a schedule to turn on and off at specific times. To create a tranquil and peaceful mood, consider using cool colors, as talked about in our previous post, Bedroom Design Tips: Warm or Cool Colors?
Waking up to the sound of an alarm clock is very annoying for some people. Getting scared from your sleep with a loud high pitched sound is not a pleasant way to get up in the morning. As a solution, the iLuv Smartshaker is a programmable vibrating alarm clock that is controlled from your smartphone. Place it under your pillow to be woken up with a silent vibration. Great for people with roommates that have different sleeping schedules.
Being able to monitor your own sleep has several benefits. By analyzing the data from your sleep cycles, the Luna Smart Bed Cover recommends what works best for you. It can be programmed to control temperatures on each side of the bed, so couples can set their own temperature. The smart alarm finds the best moment to wake you up too. The cover can be controlled from your smartphone and integrates with other smart home products.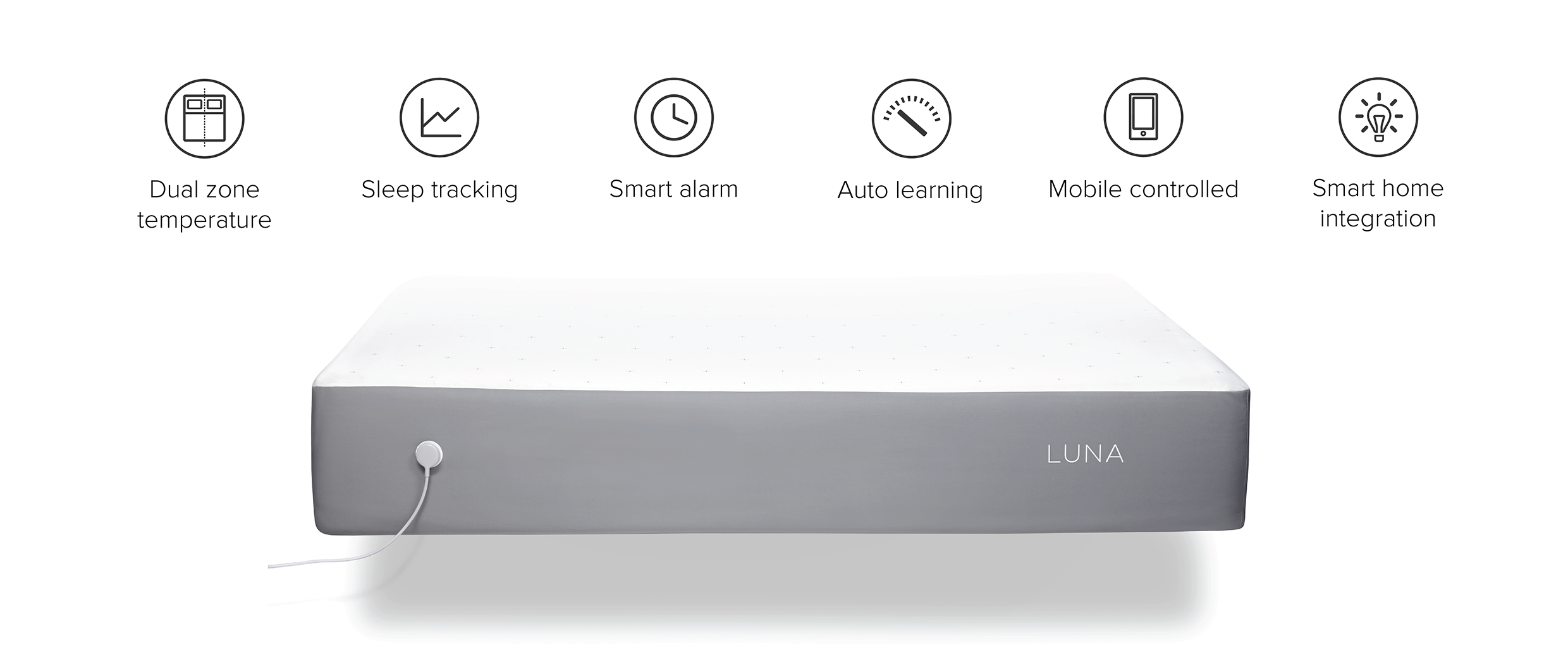 The bedside lamp gets a modern update with the Luzi Smart Lamp. This all in one product does several things at once to help make bedtime more relaxing and enjoyable. The lighting is designed to facilitate sleep and maintain your circadian rhythm. It can play soothing quiet noise to help you sleep, or play your favorite calming music through bluetooth speakers. The lamp can be controlled through voice commands and charges up to four USB devices at the same time.
This is not your little kids' night light. Controllable from a smartphone app, the Aumi Nightlight can display up to 16 million colors. It can be plugged into the wall like a traditional night light, or placed wherever needed thanks to a rechargeable internal battery. The battery can last for up to eight hours on a single charge. One of the coolest features is the aluminum bezel that acts as a dimmer when rotated.
The Knocki Smart Control is an innovative product with the potential to be used all over the home, not just the bedroom. It turns any surface into a control that is activated through gestures, triggering actions in other smart devices. Place it on the inside of the front door and receive text messages whenever someone knocks. Use it to turn the shower and control lights in the morning by tapping the nightstand as you wake up.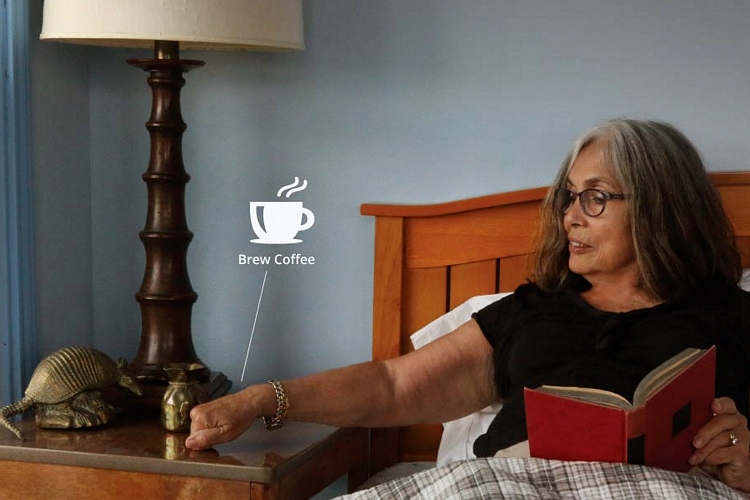 The big difference between this bulb and similar smart bulbs is the simulated sunrise feature. Waking up in the morning because of either loud noises or bright lights is the wrong way to wake up. Our bodies are naturally in tune with the sun's cycles and waking up with a gradual increase in light is the natural way of waking up. Thanks to the colorful LED's, the Bolt Smart Bulb can simulate sunrises in various color tones.
People fall asleep with their iPhone next to them, so it only makes sense for bedroom devices to be controlled via smartphone. Smart products help to make life easier by putting the power of control at our fingertips. With a pinch and swipe it is easy to turn on lights, set air temperature, monitor sleep, and gently wake up in the morning.